Zong balance save Code
Customers of Zong have access to a unique service or code that can save them money on their balances. It can be used to save the balance on your Zong account.
You will want to keep your Zong balance safe as soon as possible if you are one of those people. Zong sim is utilized by individuals who find that they are unable to maintain their balance while using the internet.
In the event that this is the case, have a look at it over here. If you take the time to read these instructions, you will be able to keep the balance on your Zong sim card.
Why Do We Need Zong Balance Save Code?
Every time they are "on internet data connection," many prepaid internet users have frequently complained about their balance getting lost. They can now save their balance before turning on their data connection because of this. Their balance will stay the same as a result. There won't be any additional deductions.
See Zong Golden Numbers Online Booking
Zong Save Balance Code
With the Zong balance save offer, you can lock your balance for later use. To activate the free service, dial *4004# from your Zong 4G prepaid SIM card.
Yes! With a new offer that has been made available by all Pakistani 4G networks, you can easily save your extra balance in another account. This service offers users a lock system and functions similarly to bank account management. Using a code, it is simple to lock your necessary balance into another account.
Also Review Zong Lahore Offer.
Zong Balance Save Code Free
In order to Save Your Balance dial the code *4004#. Zong has made it very easy for both prepaid and postpaid customers to save the balances on their SIM cards. They need only send a text message or call a specific code in order to lock the sim balance for free. To accomplish this goal, follow the steps that are outlined below.
How to Save Zong Balance While Using Internet
Dial *4004#
The response for prepaid users is "1," and for postpaid users, the response is "2."
Simply respond with "1" to sign up for the service.
Simply respond with the number "2" to be removed from the service.
A text message will be sent to your phone informing you that the balance saver for Zong has been enabled for your number. You can also subscribe to or unsubscribe from the service by using the second method if that is something you would like to do.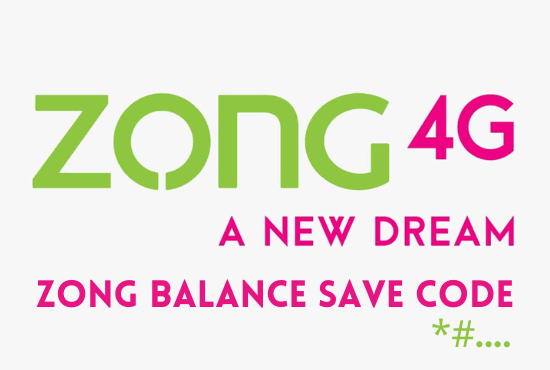 Zong Balance Save Code Service For Prepaid
If you have a prepaid SIM balance, you can only use this method to activate the service. You can do this by texting "sub dsspre" to 6464 from your phone's write message option. The service is going to be offered.
Send the message "sub dsspre" to 6464 to subscribe.
Send "Unsub dsspre" to 6464 to cancel your subscription.
Zong Balance Saver Service For Postpaid
To use the service, you must have a postpaid SIM card. Text "Sub dsspos" to 527 from your phone's write message option. The service is going to be offered.
Send "sub dsspos" to 527 to activate your account.
Send "unsub dsspos" to 527 to deactivate your subscription.
How To Withdraw Zong Balance?
By unsubscribing this free balance lock service whenever you need to, you can quickly withdraw your balance. Hence Unsubscribe from the service by following these instructions.
Dial *4004#
Select 2 & "Unsubscribe"
Service has been unsubscribed for free"
Related article:
Zong Balance Save Code (FAQ)
How to save Zong's balance?
Allows only Bundles to use the internet for free while conserving your mobile balance. *4004# is the number to subscribe.
How can I save my Zong card?
Zong phone credit can be added online, via scratch cards, or by using a Zong phone code to top up your phone's credit. To send a scratch card, enter *101*, the 14-digit number on the card, followed by #, and press SEND. This option is available to all Zong Prepaid and Postpaid customers, regardless of the package they are on.
Conclusion:
Internet users can use this service. Hence If your prepaid account has some remaining funds and you want to use the Internet. Your balance will be deducted when you first open the browser. Save your extra money before using the internet, so be wise. This page contains complete subscription and balance-saving methods. If you have any problems saving your balance, please contact Zong at their helpline number. For additional information and frequently asked questions, you can also visit the official website.