Jazz Balance Save Code
In order to activate the Jazz Balance Save Code dial *275# into your phone keypad. In order to cancel your subscription to the Jazz Balance Save service, dial *275*4#. With Mobilink, saving your balance has become an extremely simple process.
Users of the network now have the ability to save the desired balance at any time they choose thanks to the newly disclosed code by the network.
The very first 4G data network in Pakistan is providing the very best customer support that has ever been offered.
If you forget to turn off the data service after your internet package expires, or if you accidentally turn on the data service while you had zero internet data MBs remaining. Here are the details of the jazz balance save code *275#.
Jazz save balance code
The Jazz Balance save code is *275#. If your Mobile Data is turned on but you have no Mb or are not subscribed to any internet bundle, this code will save your balance.
This code is a jazz balance save code when using the internet. The information provided below will help you understand how to sign up for the Jazz Balance Saver Offer. This offer is completely free.
Book Now: Jazz Book My Golden Number 0300
Jazz Balance Save Karny ka Tarika
*275# jazz balance save code

Open the dialer on your mobile phone.
Enter the code *275# into your phone.
The Confirmation Messages will be delivered to your inbox.
The message will contain all of the pertinent information.
This service is provided at no cost to the customer, and no compensation will be paid to the company.
Dial *275*4# if you want to unsubscribe from the Jazz Balance Save Promotion.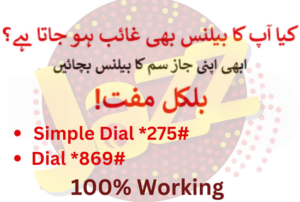 How to Save Balance in Jazz When Data is ON?
Use another Jazz balance saver code to lock your mobile data and prevent unauthorized use. To protect your balance while using the internet, you can use the Jazz Doosra balance saver offer.
When the service is activated, your balance is transferred to your Jazz Doosra balance account. You can create another balance account for your Jazz SIM by dialing the *869# code.
By using these methods, all Jazz and Warid customers can save their mobile balance at any time. You won't ever run out of money when you activate this service, and mobile data is always active.
The activation instructions for the balance save service must be followed;
Also Review: Jazz International Call Rates & Packages
Doosra Balance Account Details *869#
By dialing *869# from your mobile phone, you can activate the Jazz Doosra Balance save Code and save your balance.
To take advantage of this offer, you will have to pay Rs 1 plus any applicable taxes.
As a result of dialing the phone number, you have received a message in your Message Inbox, which you can read below
Jazz Save Balance Return Code
Simply dial the *869*3# code from your mobile device if you want to stop receiving this service.
Jazz balance saves unsubscribe Codes
In order to cancel your subscription to the Jazz Balance Save service, dial *275*4#.
You can cancel your subscription to this offer by dialing *869*3#, which is the telephone number to use to cancel your subscription.
How To Withdraw Your Balance?
From your Mobilink SIM, dial *869#.
Pick option 2 now, "Raqam Neekalen."
Then, in the pop-up box, enter the desired amount.
Done! Your balance has been successfully withdrawn.
Related articles
Not able to find it? Need to know more? Don't worry, we'll help you out.
Click on the link below to find out more.
For more Jazz Package Click here.
Terms & Conditions:
Only Jazz prepaid customers are eligible for this promotion.
This offer is free to sign up for.
You can save your balance by dialing Jazz balance save and entering the code *275#.
Visit the Jazz official website for more information.
Jazz Balance Saver Code (FAQs)
How can I save the jazz balance in 2023?
What is Balance save code Jazz 2023 and how does it work? By only using data from your subscribed data plan, you can now save money on your balance. To do so, dial the Jazz balance save, which is *275#, on your phone.
How can I get the Jazz 100 balance?
It is as simple as dialing *112# from your Jazz Prepaid number to activate Jazz Advance. If your account balance falls below Rs. 100 at any point during the next four hours, you will receive an Rs. 15 cash advance in your account.
What is Jazz Gold offer?
Jam is introducing a new postpaid package plan, the Gold Plus, that is value-agnostic in terms of price and includes Super 4G Data, free Jazz minutes, as well as free minutes on other local networks and SMS.
Gold Plus is a comprehensive communication solution that can be used to meet all of your communication requirements.
How can I get Jazz's full balance in 2023?
When a customer recharges with *408# on a recharge of Rs. 100 or more, the customer will receive the entire balance due to them, with no deductions for taxes or other fees.
It is expected that all of the mechanics for the full balance will be identical to those used for the regular balance.