Zong Karachi Offers
On this page, you will find Zong Karachi Offers, which include daily, weekly, and monthly (MBs + Voice) bundles. Each offer comes with its own unique Code and Price. Do you live in Singh? The largest city in Pakistan must be where you live. Yes! I mean, if you live in Karachi, get ready, because we have buckets just for you on this page.
Zong 4G makes it simple to access the internet in Karachi, but because of its new LBC (location-based offers). To put it simply, the network has released more than six buckets for the city of Karachi alone. We've listed these buckets with brief descriptions.
Big Deal For Punjabian From Zong: Zong Apna Shehr Punjab Offer
Zong Karachi Offers (Codes & Prices Details)
The price of these packages starts at 13 rupees and rises as the number of incentives rises. However, the validity is fixed and is divided into three common formats (daily, weekly & monthly). Which are being sold for much less money and have more resources. Because of this, we can only help customers who use Zong prepaid SIM cards in Karachi right now. I brought them a special offer from Karachi.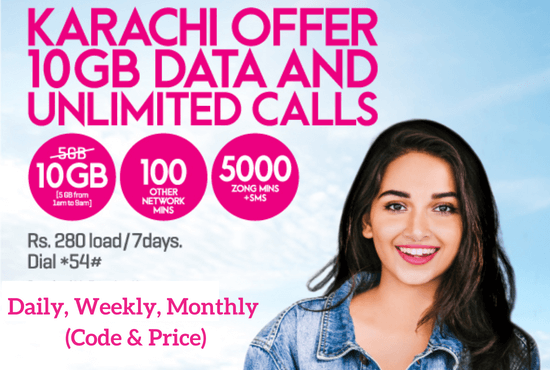 Zong Karachi Offers Daily Code
With this package, you can call Zong numbers as much as you want and use 125 MBs for 24 hours. The price of the package is Rs 13, and you can only sign up for this bucket in Karachi. You can activate your phone by dialing *544#, but the network has also added an SMS way to sign up. Send the message "KHI7" to 522 to start this daily package.
Data: 125
On-Net Min: Unlimited
Validity: 24 Hours
SUB-Code: *544#
SUB via SMS: SMS 'KHI7' to 522
Price: Rs 13
Zong Karachi offers weekly Code 
The Karachi offer zong is always for the same place, but the price and incentives change every week. Send "KHI6" to 522 to get unlimited minutes from Zong to Zong and 1000 SMS for all networks for Rs. 76.
On-Net Min: Unlimited
SMS: 1000
Validity: 7 Days
SUB via SMS: SMS 'KHI6' to 522
UNSUB via SMS: SMS "unsub" to 522
Price: Rs 76
Zong Karachi offer Monthly Code
Zong Karachi has a Monthly Code bucket with unlimited on-network minutes and 1000 SMS. As with other packages, the only way to join this LBC bucket is to send "KHI" to 522 and pay 238 rupees.
On-Net: Unlimited
SMS: 1000
Validity: 30 Days
SUB via SMS: SMS "KHI" to 522
UNSUB via SMS: SMS "unsub" to 522
Price: Rs 238
How to Check Zong Karachi Offer?
Dial *102*4# to check Internet MBs
Dial *102*2# for Minutes
Dial *102*3# for SMS
Dial *102# for all menus
Dial *102*1# for All Details
Also Review: Zong Lahore Offer
How to UN-Subscribe to Zong Karachi Offer?
You can get DE-activated with this offer by sending in the message "Unsub" via SMS; all you need to do is type it out and send it to the number 522.
Features
There is a Rs 0.15 call setup fee.
All packages are for Karachi and SINDH.
LBC Offer will pay fees to the government
For un-subscription SMS "unsub" to 522
Terms and conditions
These offers are location-based and subject to modification at any time.
On the internet, calls, and SMS sent and received from outside the offer boundary, standard rates will apply.
These offers do not automatically recur.
There are no setup fees for calls.
The following taxes and fees would be applicable:
Every recharge is subject to a 12.5% Advance Income Tax (AIT) rate.
19.5% sales tax (GST) is levied on usage.
For More Info Visit Zong.
Conclusion
If you are interested in more information, please leave a comment below, and if you think that this post is helpful, please make sure that your loved ones who currently reside in Karachi are aware of it. in order for them to take advantage of the offers as well.