Jazz Internet Package In 80 Rupees
All prepaid users can purchase the Jazz Internet Package In 80 Rupees. Users will be given 2000 MBs for 30 days of social media and internet use. The Jazz Data Infinity or Monthly Browser Offer are other names for this package. This bundle must only be activated once for a subscriber to have it continuously available for 30 days.
Enjoy the fastest Jazz 4G internet MBs of 2GB (2000 MBs) to connect to the internet. For those users who use the internet sparingly, there is now a low-cost internet bundle available. Low MB validity has been maintained for 30 days for this reason.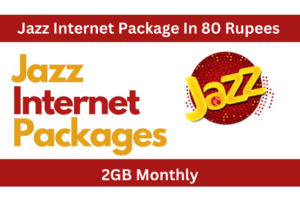 Jazz Internet Package in 80 Rupees Monthly
The latest internet data package from Jazz allows you to access the internet in 4G format on your mobile device at all times. Yes! Enjoy 30 days of unbroken data for just 80 rupees.
Isn't it a perfect and affordable long-term bundle for all users? Here, we have all the information you need, including codes, prices, and other specifics.
Jazz 80 Rupees Internet Package
Data: 2 GB
Validity: 30 Days
Subscriptions: *709#
Check Code: *709*2#
Price: PKR 80
Recharge Required: PKR 90
How can I get Monthly 2 GB on Jazz?
By dialing the *709# code, anyone with a prepaid Jazz connection can quickly get 2GB of data. Additionally, you can sign up for the offer through the Jazz World app.
The cheapest way to access the Internet is through this prepaid package. Also, Review the Jazz Balance Save Code
What is the Price Of the Package?
Get excited because this bundle is offered for a low cost of just 80 rupees.
How To Check MBs on Jazz?
By dialing *709*2# for free, users can easily check the status of the remaining Mbps. Users can use the data within daily limits with the help of this code. Also, Review How to Share Balance in jazz.
Terms & Conditions
On 4G devices, data can be used.
There will be all applicable government taxes.
The deal is available 24/7 for a full month (30 days).
For users to sign up for this offer, they must have PKR 90.
Conclusion
It's important to remember that prices and packages can change and may differ based on your location and other factors. For the most recent and correct details on Jazz's internet plans and prices, I advise visiting their official website or getting in touch with their customer service.