Book My Number in Ufone
Book My Number in Ufone is back to let you reserve your preferred number. You can select any of your preferred Ufone numbers for this service. Now, you can book a Ufone SIM number online and have it delivered to your home.
You can reserve exclusive numbers online for free and purchase premium numbers at a discount when purchasing a SIM card through the Ufone My App.
If you chose a different number, you would be able to take advantage of brand-new deals on packages and plans that you can't get anywhere else.
If you buy a new SIM card now, you can have it delivered to your door for free or pick it up at your local business center.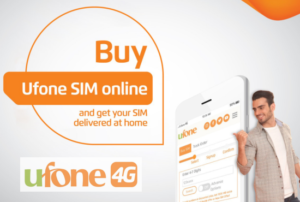 Customers of Ufone can reserve their desired Ufone numbers online. After entering their desired numbers, the Ufone system will display a list of all available Ufone numbers with codes, allowing you to pick and reserve one number at a time.
Clients select their lucky numbers, wedding dates, birthdays, house numbers, etc. as a result. Grab your preferred number using the internet.
See Ufone Poora Balance Offer Code
How to Book Your Ufone Number?
Now purchase a SIM using the My Ufone App. To order a Ufone SIM number via an app, read and follow these instructions.
My Ufone app is available for download from the Google Play Store and the App Store.
Enter the login information after downloading.
The "Buy SIM" option is located in the top navigation menu.
You can see the option to look up available phone numbers after clicking Buy SIM. The choice is between the
standard number and the luxury number.
You can keep an eye on your phone number in a few simple ways:
1) Number
2) Plans
3) Information
4) Confirmation
5) Distribution
Your SIM will be delivered to your door in a few days.
The biometric check must be finished, and the SIM card fee must be paid.
Ufone Book My Golden Number
Online booking is available for Ufone Book my golden number.
Choose a number between 4 and 7 digits and type it in. (without code).
being tasked with something.
Pick a number from the drop-down menu when it appears.
When reserving it, enter your CNIC.
Within five days, your Ufone number can be assigned and sent to any Ufone support center.
Ufone My book number via SMS
You can use SMS to reserve your preferred Ufone number. The process is simple and quick.
Dial *0000# from your Ufone phone number and follow the on-screen instructions to reserve your exclusive Ufone number. Dialing *0000# will cost you 1+ tax.
How Do You Track Your Order?
The official Ufone portal has received a new tracking order service. Your SIM order can be tracked multiple times without cost. What you need to do is as follows:
Please enter the tracking number. (You receive it while ordering.)
Those who do not have a tracking order can enter the "ordered number."
To find out the location of your order right now, click the "Track" button.
Terms and Conditions
Each time a number is verified using *0000#, a fee of Rs. 1 plus tax will be applied.
A reserved number must be picked up from any Ufone service center or franchise within five days of the reservation.
The reservation will be canceled if this is not done.
The buyer of a Ufone SIM must show an authentic, current CNIC.
The customer is responsible for paying the full purchase price, including taxes.
All Ufone users are eligible for this offer.
The ability to reserve a number is contingent upon stock.
Any number issued under this offer will be subject to an additional fee of Rs. 50; standard fees for the SIM price, advanced line rent, and security deposit will also be applied.
There are no fees for looking up or booking a number on the Ufone website.
Thanks for Ufone.
I just want to thank Ufone for introducing such a fantastic service to its prepaid customers. Pakistani women will take advantage of this service and stay at home to receive their new number at a low cost.
Frequently asked questions
How can I book my Ufone prepaid number?
Ufone book my no By dialing *0000# from any active Ufone number, you can also reserve your desired number. Per attempt, short code dialing costs Rs. 1 plus tax.
How can I change my Ufone number online?
Simply go to your local retailer or call 033 1236 1236 to transfer your current number to the Ufone network.