Zong Apna Shehr Punjab Offer
Are you a Punjabi? If the answer is yes, get ready for the "Zong Apna Shehr Punjab Offer" because it's best suited just for you. Zong has announced an amazing deal for all of the cities in Punjab. In terms of population, Punjab is Pakistan's largest province. The majority of mobile phone users reside in this province as a result. This is a deep place to communicate because urban dwellers predominate.
In this area, all Pakistani telecommunications networks work very hard to provide better service. Here are all the details of Zong's offer, which was created especially for Punjab.
Also Review: Zong Lahore Offer
Apna Shehr Punjab Offer Code
The amazing Zong Apna Shehr Punjab Offer, which includes 150 minutes on all networks and 6 GB of the Internet, is available to citizens of Punjab. It costs Rs. 220 to use and is good for 7 days. To sign up for the Zong Apna Shehr Punjab Offer, dial *2222#.
Data: 8GB
SMS: 5000
On net Minutes: 5000
Off-net Minutes: 120
Call Setup Charges: No
Validity: 1 Week
Sub Code: *2222#
Price: Rs 250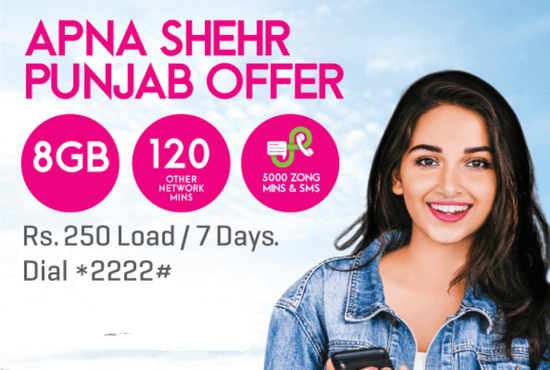 Apna Shehr Punjab Offer zong
In Pakistan, Punjab Zong is the network that provides the fastest internet speeds. The maximum data incentives on weekly and monthly essentials have made this network's data SIM and 4G devices popular throughout the entire nation. Zong has the highest percentage of 4G users and the lowest rates per Mbps.
Because of its maximum benefits, we must therefore value this Zong bundle. Because this bundle's price has been kept reasonable and ideal for 8 GB over 7 days. By dialing *2222# and paying only PKR 250, take advantage of this opportunity right away.
Zong Punjab Offer Check Code
Here are Two Ways To find out how much data you have left on your Zong device,
Go to the dial pad and enter *102#. The results will appear on the screen immediately.
First install the Zong My App application that you downloaded from the Google Play Store, all of the information that you require will immediately become visible to you.
How to Subscribe to Zong Apna Shehar Offer Punjab
The Zong haftawar Punjab package code is *2222#. To take advantage of this offer, simply dial the code now.
Apna Shehr Punjab Offer Unsubscribe Code
After 7 days from the date of subscription, the package will expire and you will be automatically unsubscribed.
Advantages
The following advantages will be available to any subscriber who purchases this Zong Weekly Call Package and SMS package:
Data: 8GB
SMS: 5000
On net Minutes: 5000
Off-net Minutes: 120
Sub Code: *2222#
Disadvantages
Terms and conditions
These offers depend on your location and can be changed at any time.
If you use the Internet, make a call, or send a text message from outside the offer area, you'll have to pay the standard rate.
These deals don't keep coming back on their own.
There are no fees for setting up a call.
The taxes and fees listed below would be due:
A 12.5% Advance Income Tax (AIT) rate is added to every recharge, and a 19.5% Sales Tax (GST) is added to every use.
Conclusions
Until now, we have been talking about the Apna Shehar Weekly Offer Punjab. This will give you 120 minutes on your local network as well as minutes to use Zong to call other networks for a period of 7 days. Zong Punjab also provides you with 5000 MB of data every week for only 250 rupees, so you can surf the web and watch videos without worrying about data overage fees.