Telenor Monthly Call Package in 100 Rupees
Do you have a Telenor SIM and are you required to call Jazz, Zong, and Ufone on a regular basis? If Yes! Then, we'll offer the most effective and affordable fix for this issue. You are conscious of the high balance charges associated with dialing from one network number to another. Telenor has therefore introduced a monthly plan valid across all Pakistan networks.
Basically, Telenor recently introduced the "Any network voice bundle" program. For 30 days, this bundle offers 110 minutes for 100 rupees. All networks are able to use these minutes. Users of Telenor are currently purchasing this bundle under various names. Also, Review Telenor Monthly Call Package of 70 Rupees.
Telenor Monthly Call Package 100 Rupees Code
Telenor Monthly Call Package in 100 Rupees includes 110 minutes on all networks for 30 days. Users who want to call numbers on other networks can use this bundle. Therefore, calls can be made to any Pakistani telecom network once per month for just Rs 150 recharge. If you want to Buy Telenor Golden Number Online At home Then Click The link.
Minutes: 110 All Network Minutes 
Validity: 30 Days
SUB-Code: *345*821#
Price: Rs.100
Recharge Required: Rs.150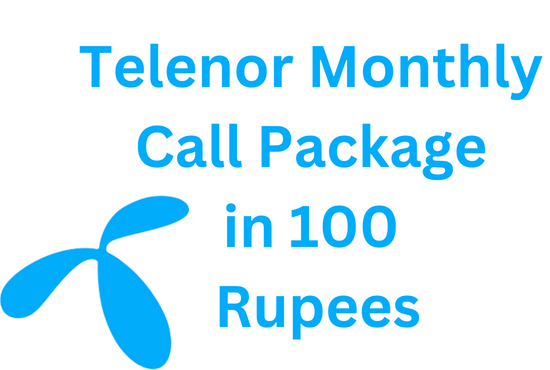 Benefits of This Package
This package contains a minimal number of minutes. However, these minutes are sufficient for those who wish to call several different numbers from various networks for a brief moment or a longer period of time. Yes! It is possible to activate this 110-minute bundle for 150 rupees and use a Telenor prepaid SIM to make low-cost calls to all networks for those who carry multiple mobile devices and SIM cards just to make calls on various networks. Activate the 150 Rupee Telenor Monthly Call Package.
How To Activate Telenor Monthly Call Package Rs 100?
Please dial *345*821# to activate this offer through a code, and you will be added to the list of subscribers. On the other hand, to activate this bundle on your prepaid number, use the official App. Telenor Call Package, which starts at 150 Rupees, is like a gift for prepaid SIM card users.
Previous Talk
Not able to find it? Need to know more? Don't worry, we'll help you out.
Click on the link below to find out more.
Terms & Conditions
This is a monthly call package for all networks.
Users of Telenor Prepaid can purchase this package.
The 30-day calling package will not charge any call setup fees.
The "any network voice bundle" that costs Rs 150 per month is automatically recursive.