SCOM WhatsApp Packages
SCOM provides its customers with a variety of SCOM WhatsApp Packages to meet the various needs they may have regarding WhatsApp. You can take advantage of any offer that interests you with the daily, weekly, and monthly SCOM WhatsApp bundles. These bundles can be activated by texting a shortcode to a specific number or by using the SCOM Mobile App.
SCOM WhatsApp Package 2022 is the most widely used mobile network provider in the outlying regions of Gilgit Baltistan and Azad Jammu and Kashmir. To connect residents of these areas to the rest of the world online, the network provides excellent coverage of all three generations of its mobile service (2G, 3G, and 4G).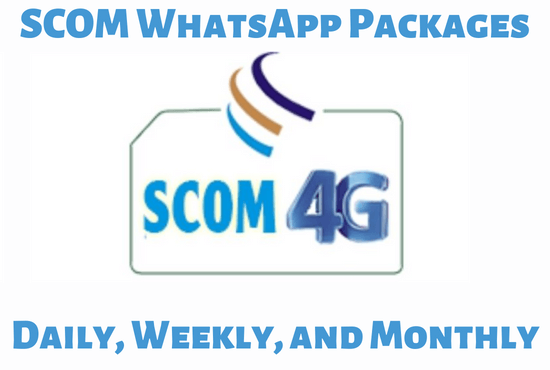 Also Review: Get Free Scom Loan Code 2022.
Here we describe all SCOM WhatsApp Packages on a Daily, Weekly, and Monthly Basis Please Read the article carefully.
SCOM Daily WhatsApp Package
There is not a particular daily WhatsApp offer available through Scom at this time. However, you can get the equivalent of 500 MB of data for Rs. 29 for the entire day, and this includes WhatsApp data.
Data: 500MB
Validity: 1 Day
Activation Code: *725#
Price: Rs. 29
Recharge Required: Rs. 35
SCOM Weekly WhatsApp Package
If you want a package for the whole week that only costs Rs. 75, the Weekly WhatsApp Bundle is a good choice to consider. You will also receive data for the SCOM internet packages SCO Smart TV App, in addition to Facebook and Twitter, when you take advantage of this offer.
Data: 7GB (WhatsApp, Facebook, Twitter, Smart TV App)
Validity: 7 Day
Activation Code: *111#
Price: Rs. 75
Recharge Required: Rs. 90
SCOM Monthly WhatsApp Package
Activating the Scom Monthly WhatsApp Package is the best option for you to take if you spend the majority of your time communicating through WhatsApp and Facebook. As part of this deal, you will have access to 7 GB of data that can be used for WhatsApp, Facebook, Twitter, and the SCO Smart TV App.
Data: 7GB (WhatsApp, Facebook, Twitter, Smart TV App)
Validity: 30 Day
Activation Code: *111#
Price: Rs. 300
Recharge Required: Rs. 360
SCOM Monthly WhatsApp & SMS Offer
In SCOM Social Package Monthly You have the option to take advantage of this deal if you need SMS in addition to some MBs for WhatsApp. It will provide you with 20,000 SMS for use on any of Pakistan's local networks. In addition to that, you will be given 300 MBs to use on WhatsApp.
WhatsApp Data: 300MB
Free SMS: 20000
Validity: 30 Day
Activation Code: *725#
Price: Rs. 50
SCOM WhatsApp Packages Check Code
Simply dial *125# using your Scom SIM card. You can expect to receive a message containing information about your present balance shortly. Then you need to respond to this text message with the number 1. You will shortly get a message that details all the information about the resources you still have available to you.
Related Article:
Terms & Conditions
By the applicable policy, GST in the amount of 17 percent is applied to all tariffs in AJ&K.
These offers are only valid for a limited time, and the terms and conditions of any offer are subject to change at any time.
The speed of the internet that you get to use will vary depending on a variety of factors, such as the SIM card, the device, the websites that you visit, the time of day, the number of people using the internet at the same time, the distance from a 2G/3G/4G site, and so on.
Because your SIM card serves as your identity, you are only allowed to use SIMs that have been verified using a biometric system provided by the PTA.
SCOM WhatsApp Packages (FAQs)
How can I use free WhatsApp on SCOM?
You will pay a very low price to take advantage of this offer, which entitles you to 500 MB of additional storage space on WhatsApp. How do I become a participant in Scom's Daily WhatsApp Promotion? Simply enter *111# into your telephone's dial-pad and then follow the on-screen instructions.
What is the SCOM Kashmir package?
SCOM has the most extensive network coverage in the region, spanning nearly 450 towns and cities in Azad Jammu & Kashmir and Gilgit Baltistan, with an equal footprint in rural and urban terrain. GPRS and EDGE services, as well as low call rates, attractive packages, and nationwide roaming, are some of the network's most important features.
How do I unsubscribe from the SCOM package?
Send the text "sub" to the number 501 to subscribe; to unsubscribe, send the text "unsub" to the number 502. The procedure is as follows: Simply send the word "help" to 502 via text message to receive assistance.
Conclusion:
We will provide you with the best information we have regarding the most recent Scom WhatsApp packages on a daily, weekly, and monthly basis here in this article. Please share this information about the New Scom WhatsApp packages Daily, Weekly, and Monthly with your family, friends, and loved ones by sending it to them through Facebook, Whatsapp, Twitter, or Instagram so that they can take advantage of these entertaining services.