Jazz Monthly Call Package in 100 Rupees
With Jazz Monthly Call Package in 100 Rupees, you can now stay in touch with both on-network and off-network numbers. There are Jazz plans for 30 days, but they all cost more than 300 rupees.
This is because it has the most proof. But Jazz has started offering a new monthly call package that includes minutes, SMS, and MBs for a set price.
It's easy to sign up for the Jazz Call package monthly because the price is affordable. This is the first time in telecommunications that a network offers a calling bundle with other perks for a whole month for just 100 rupees.
So, we recommend that our visitors take advantage of this golden chance and get a fixed price for SMS, MBs, and monthly calling minutes. Use the table below to find out about the bundle.
Jazz 30 Days Call Package in 100 Rupees
Dial *614# to get 4 GB (4000 MB for WhatsApp + IMO), 2000 SMS, 300 On-Net, and 40 Off-Net Minutes. All of these MBs, SMS, and minutes will work for 30 days (1 month) without any time limits. So, keep up with the internet and connect with your friends and family through calls and SMS for 100 rupees per month.
*614# jazz package monthly
Data: 4GB (WhatsApp + IMO)
On-net Minutes: 300
Off-net Minutes: 40
SMS: 2000
Validity: 1 Month
Price: Rs 100
Required Load: Rs 250
SUB-Code: *614#
Check-Code: *614*2#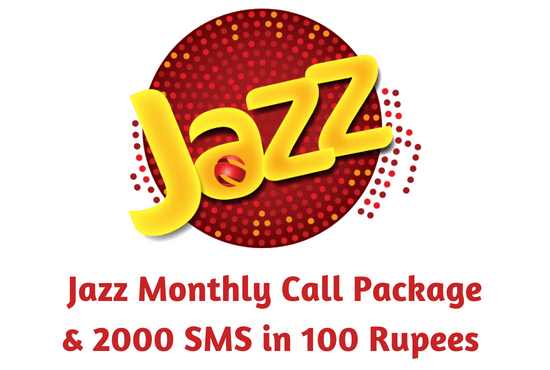 2000 SMS in 100 Rupees
The SMS (text message service) is a feature included in this 30-day package. You can get 2000 SMS across all networks for Rs 100. As a result, it also provides a low-cost source of connectivity (rate).
How To Subscribe to Jazz 100 Rupees Call Package?
Dial *614# To Subscribe Jazz Call Package For 100 Rupees.
How To Check Remaining Package?
Dial *614*2# To Check Your Remaining Package.
Other Jazz Call Packages:
Terms & Conditions:
Here is a 30-day package.
The original bundle cost is Rs 100.
The price of the subscription plus tax is Rs. 149.
No FUB incentives will be used.
For users of prepaid SIM cards, this package
Jazz can provide official information and assistance.
Jazz Monthly Call Package 100 Rupees (FAQs)
What is the *614# package of jazz?
When a customer dials *614#, they'll be signed up for the Mahana Bachat Offer for exactly 30 days. The offer will end at midnight on the 30 days. This Offer can only be used once. If a customer wants to use it more than once, they will have to dial *614# again.
What is a monthly jazz call package?
To subscribe to this offer, dial *430#, and to check the bundle status, dial *430*2#. With the 'Jazz Monthly package,' you can talk to your loved ones and take advantage of the availability of 10,000 On-Net Minutes, 10000 SMS, and 1000 MBs for just Rs 390. This incredible month-to-month bundle from Jazz includes free On-Net and Off-Net service, as well as internet and SMS messaging.
What is Jazz's monthly package of 100 rupees?
Dial *614# to get 4 GB (4000 MB for WhatsApp + IMO), 2000 SMS, 300 On-Net, and 40 Off-Net Minutes.
What is Jazz 150 RS offer?
Get 1000 on-net minutes, 60 off-net minutes, 1000 MB of internet, and 1000 SMS for a whole week for just Rs. 150 (incl. tax) with the Jazz Weekly Hybrid offers.
How can I get 1000 minutes in Jazz?
All users in Pakistan can use this prepaid package. To activate the Jazz 1000-minute package for 55 rupees, dial *710#.