I7 Pro Smartwatch Price in Pakistan 2023:
The new I7 Pro Smartwatch Price in Pakistan is Rs: 3,500. An Apple Watch Series 6 smartwatch replica made by IWatch Online, one of the most well-known and best-known manufacturers of smartwatch replicas, has been updated with new designs and features. iWatch Online is now selling the I7 Pro smartwatch's original price in Pakistan.
In addition to its customizable watch faces, Multi-Sport Modes, and built-in speaker/microphone, this device is a must for anyone who uses their smartphone to make phone calls while on the go.
The sports features are supplemented by the ability to see your heart rate in real-time and determine if it is normal or not. a device that monitors and analyses your sleeping patterns by determining how much light sleep, deep sleep, and waking time you spend in each category.
See Apple Watch Series 6 (44mm) Price In Pakistan
i7 pro max price in Pakistan
The I7 Pro MAX Smartwatch from iWatch Online, one of the most well-known and best manufacturers of smartwatch replicas of the Apple Watch Series 6, has had its design and features updated. Because of this new update, the smartwatch now has a more appealing appearance, as well as improved hardware and features.
For anyone who uses an i7 smart watch, this device is a must-have because of its 1.75-inch Full Touch Screen, customizable watch faces (including heart rate and blood pressure monitors), Multi-Sport Modes, and, perhaps most importantly, its built-in speaker and microphone for making phone calls.
When compared to other smartwatches, this one is more easily set up and used thanks to the M2 Wear app for Android and iOS.
Also, review the Vivo Smart Watch price in Pakistan.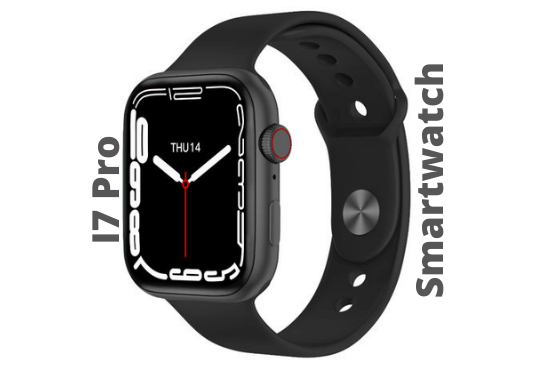 I7 Pro Smartwatch Specifications:
RAM: 128MB
ROM: 128MB
Multiple Dials
Life Waterproof
Display: 1.75inches
Case Material: Alloy
Resolution: 240*385
Battery: 180-220mAh
CPU Model: MTK2502D
Compatible: Android 5.0 & IOS 10
I7 Pro Smartwatch Features:
Alarm
Music Play
Calculator
Bluetooth Calls
IP68 Waterproof
Heart Rate Monitor
Custom watch face
Pedometer: Support
Body Temperature Test
Weather Mett: Support
ECG Heart Rate Monitor
Heart Rate, BP & ECG, Steps
44mm Changeable bracelets
Find Phone Anti-lost Reminder
Sleep Monitor: Record and analyze your Sleep Status
Touch Screen 2.5D curved Capacitive full touch screen
Display:
My favorite type of display is the 1.75-inch IPS screen on the i7pro max smartwatch, which has a high resolution of 320*320 pixels and a fast refresh rate.
As a result, it has one of the best screens in a budget smartwatch in terms of size and resolution; even the sharpness of colors and brightness are so good that they won't alarm you when worn in direct sunlight.
In fact, this type of screen is my favorite because it occupies the majority of the interface and has narrow sides, which is only found in high-end smartwatches. The touch screen on other low-cost smartwatches is located in the center of the display and has relatively wide sides. Also, Review HT99 SmartWatch Price In Pakistan.
Build Quality:
Similar in style to the Apple Watch Series 6, the IWO I7 Pro Smartwatch has a few unique design features that set it apart from the IWO 14 Pro. For changing watch faces, turning the page, zooming in or out, and turning it on or off, it's shaped like a square with a 2.5D curved screen on the sides and a rotatable button.
A built-in speaker can be found on the left side of the button, which houses a microphone that has been augmented by a set of holes. There is a 44.5mm diameter by 12.3mm thickness aluminum-alloy body that weighs less than 50g, making it easy to wear on the wrist for long periods of time.
The case has a diameter of 44.5mm, a thickness of 12.3mm, and is only 50g in weight. In addition, it comes in the same four colors as the strap I'll discuss in a second.
You will notice that the manufacturing quality is excellent, and the new Apple-inspired design is beautiful, even though it is a budget smartwatch i7 Price in Pakistan. Currently, it's one of the best Series 6 smartwatch clones on the market today.
Health & Fitness:
The best android smartwatch with running, cycling, and even skipping rope modes is available on the i7 smart watch price. The I7 Pro Smartwatch can also be used for badminton, basketball, and football.
Additionally, blood pressure and oxygen levels in the blood can be monitored to improve the cardiovascular system's ability to prevent low oxygen levels, which can cause discomfort in the body, in real-time.
Along with its athletic features, it has all of these other cool ones as well! The SC7A20 sensor in this smartwatch is so inaccurate that it's impossible to know for sure how accurate it is.
Despite the fact that this isn't a medical device, it helps you keep track of your physical health and how well you can perform physical tasks. Due to their high price, watches in this price range are more likely to malfunction.
I7 Pro Watch faces:
If you're looking for watch faces, the i7 Pro smartwatch app comes pre-installed with five different options. It is also possible to change the color of some backgrounds by simply clicking on them.
Using the rotatable button or the M2 Wear app to switch between watch faces is not the only option available; you can also use live wallpaper or your own photos as the background of your watch face or any wallpaper.
Online watch faces are available for download in a variety of colors and styles, including retro, analog, 3D, and digital faces. Each watch face can be customized to fit your style and preferences.
I7 Pro Smartwatch Price in Pakistan (FAQs)
What is the i7 Pro Watch?
It has a 1.75-inch Full Touch Screen, Customize Watch Faces, monitors of Heart Rate and Blood Pressure & Oxygen, Multi-Sport Modes, and most importantly, it has a speaker and microphone built in so you can make calls. All of this comes at a price that doesn't go over $25, which makes me feel good about their abilities.
How do I turn on my I7 watch?
Press and hold the side button until you see the Apple logo. This will turn on your Apple Watch. Then you should put the watch on your wrist.
Is the I7 Pro smart watch waterproof?
You can wear the IWO I7 Pro Smartwatch while washing your hands or in the rain, but the watch is not approved for swimming and should not be exposed to hot water or salt water in order to avoid any damage. IP67 waterproof rating. When it comes to water exposure, whether long or short-term, I prefer to dry the watch after it has been submerged in water and before it is used so it can last as long as possible.
How To Use I7 Pro Smartwatch?
Swipe up from the bottom of the screen to open the Control Center. In addition to Bluetooth connectivity, it has a slew of sound and lighting controls. The remaining battery life on your phone will be displayed on this watch if it is connected to it.
On the right, a split window with time, date, weather, and a QR Code will be shown when you swipe from the left.
When swiping in from the right or pressing the rotary button, you'll find everything you need to know about your heart rate and sleep patterns and other features like taking photos from your watch and listening to music and weather forecasts.
And there are four games that can be selected by swiping up on top of the display.